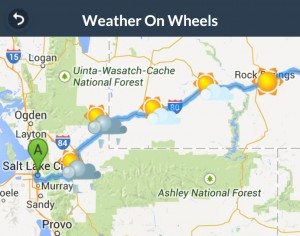 CORPUS CHRISTI, Texas – Weather On Wheels goes beyond apps which direct drivers from point A to B. This new app, http://www.weatheronwheels.com, will help you plan your drive and compare routes according to the predicted weather along your route from start to destination. If there is a bad storm predicted on your route, the app will let you know if the weather conditions improve by changing your start time and/or route. The app accesses gridded forecasts from the National Weather Service and combines this information with Google directions.
The concept of Weather On Wheels is based on prior work at the Conrad Blucher Institute for Surveying and Science at Texas A&M University-Corpus Christi which included the app "Transit Time" created to plan vessel transit through the Houston/Galveston Ship Channel. Students joined faculty with hands-on participation in all phases of the development including research, technical application to branding and marketing. As compared to other available tools, they created an app that is solely focused on the predicted weather along potential routes making it more user friendly and easier to plan drives around varying weather conditions.
The creators of the app are trying to get the word out so they can gain feedback and make refinements. They also hope the app will be utilized during the upcoming holidays and improve driving safety during holiday travel.
A&M-Corpus Christi is actively working to bring its innovations to the public and the markets. Its Coastal Bend Business Innovation Center, part of the College of Business, is a hub that has already been highly successful at guiding entrepreneurs and projects of all sizes. The development of this app is one of the first projects originating at A&M-Corpus Christi and is hopefully the first of many such projects, allowing students and researchers to collaborate on projects that combine technological innovations with the business aspect of bringing such project to the markets.
The technical team is headed by Conrad Blucher Institute Associate Director Dr. Philippe Tissot and includes CBI researcher Scott Duff and past and present undergraduate research assistants Julien Clifford, Darius Stephen, Bradley Koskowich, Carly Stanton, and David Mora. The Innovation Center team is headed by Center Director Bill Cone, Incubator Manager David Fonseca, Program Coordinator Chau Hoang and Research Assistants Steven Tran, Selvy Letlora, Laura Pulgarin, Alyssa Garza, and Tina Lentz.
Retrieved from TAMUCC article Weather on Wheels App Tracks Road Trip Weather
March 17th, 2015