Commemorating Dr. Jeffress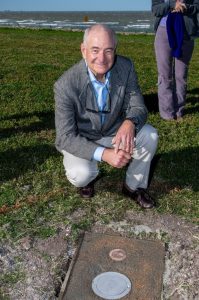 On December 20th, the Conrad Blucher Institute along with TAMU-CC President Quintanilla, Vice President Mahdy, Dean Pezold and Associate Dean Chen celebrated three decades of contribution to the island community by CBI Director and Professor of  Geographic Information Science, Dr. Gary Jeffress. The ceremony included reminiscing about Dr. Jeffress many accomplishments and words from long term colleagues.
While Dr. Jeffress is retiring from full duties, he will continue to lead the institute in its collaboration with the United Nations as part of CBI's collaboration with UN-GGIM.
Click here to view all the pictures from the event.
To make sure Dr. Jeffress is not too rusty, Dr. Edwards presented Dr. Jeffress with a small test which result were the coordinates of a new benchmark on the TAMU-CC campus honoring Dr. Jeffress.