Indianola Beach
Overview: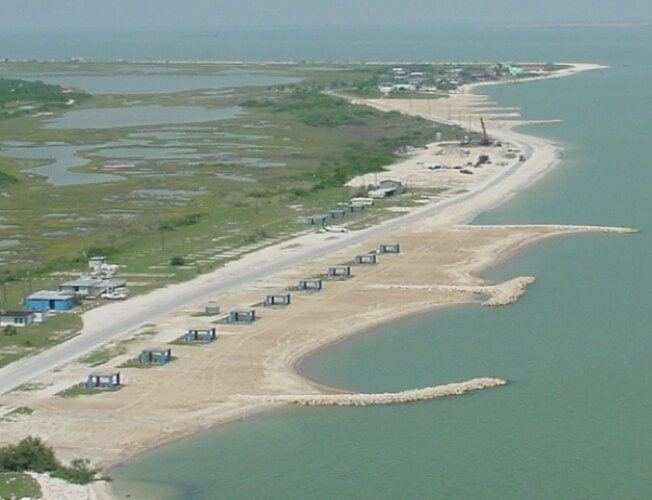 Indianola Beach is located on the west shore of Matagorda Bay and consists of what are effectively eight small (150 to 450-ft long) beach compartments, referred to as "cells," that are stabilized by a groin field. The existing beach was nourished and structures were constructed in 2003; no subsequent nourishment has been conducted to date. The orientation and size of the groin system is unique to each cell providing variable levels of protective potential. To facilitate analysis and reporting, the beach was broken into nine cells and two revetment sections. The northern reach consists of seven groins that separate the beach into six cells. The southern reach consists of three cells, two of which are compartmentalized (Cell 7 and 8). The two most southern cells along the north reach (Cell 5 and 6) and southern reach (Cell 7 and 8) are further stabilized by a central T-shaped groin and terminal arcuate groins. An articulated revetment separates the north reach from the south reach (RV1 and RV2). A small beach is located north of RV1 bordering the Cell 6 groin while limited accretion has been identified north of Cell 7 along RV2.
After a period of relative stability in which shoreline advance dominated in several beach cells, recession and erosion resumed along the entire series of cells at Indianola Beach. The rate of shoreline position change ranged from a maximum of -6.4 ft/yr in Cell 6 at the south end of the South Reach to ± 1.0 ft/yr in Cells 1 and 2 at the north end of the study area.
Location:

View CHRGIS sites in a larger map
Site Description:
Indianola Beach experiences wind typically at a 50 degree angle from the shore slope coming from the southeastern direction. Longshore currents have been examined coming from both directions but the most consistent is from the southeast traveling northwest direction and carrying away sand and soil from the wave action. Significant erosion is caused by the wakes from large vessels traveling through the Matagorda Ship Channel. The beach erosion destroyed personal property, and the historic site of Indianola Town while coming closer and closer to threatening access roads, businesses, and homes in the area. Previous attempts largely failed or even made the erosion more rapid.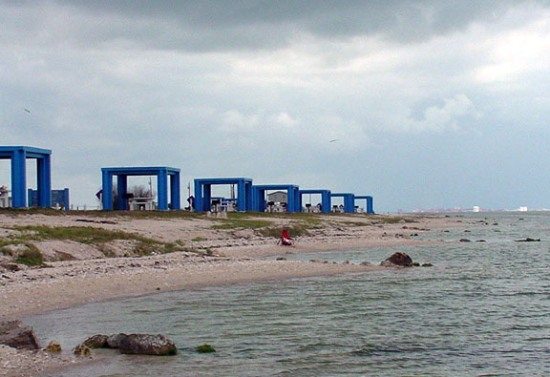 Nourishment History:
Indianola Beach consists of a mixture of sand sediments and shell fragments known as marl on the surface level and beneath that a layer of gray mud which was formed from marsh sediments that were carried by the bay's waves toward land. The introduction of marl is believed to happened during the early Holocene rise in sea level.
After considerable deterioration of the beach from Indianola and Magnolia, the local community attempted to place groins made from concrete that were unsightly and ineffective for keeping sand near the shore. A project was prepared for the Texas General Land Office to replace the concrete blocks with rock groins and periodic sand nourishment.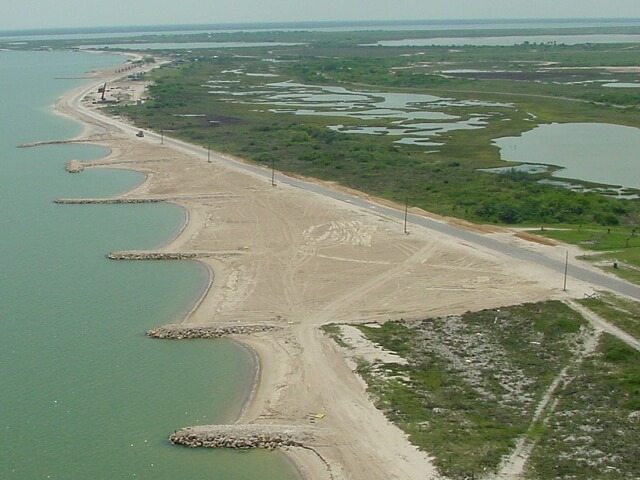 Monitoring Surveys:
Indianola Beach is monitored by CERPA/CHRGIS. The beach profile and shoreline position data is collected along with information from TCOON and TGLO including water quality, aerial photography, sediment grain size, tides, and water levels. This data is accumulated from numerous different sources and groups and we will attempt to update the information as soon as it comes available.