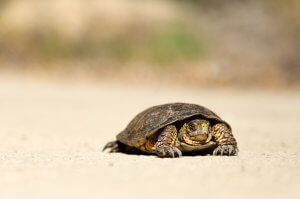 The sight of sea turtles popping their heads above water, or baby turtles hurling towards the sea during a release are a thrill and a joy for folks on the coast. We love sea turtles at the Blucher Institute. Unfortunately, several species of sea turtle are facing extinction.
Without the relentless conservation efforts of folks, such as the Division of Sea Turtle Science and Recovery team at the Padre Island National Seashore, some species of sea turtles would surely disappear. The green turtle used to be abundant in South Texas. This specie is now rebounding but hypothermic stunning during very cold fronts is the largest cause of green turtle stranding. Dr. Philippe Tissot of the Conrad Blucher Institute joined forces with a team led by Dr. Donna Shaver to better understand the conditions that cause these strandings. Thanks to historical TCOON data and turtle stranding records, the team was able to define the temperature threshold leading to large stranding events. The research was just published in the PLOS ONE journal on March 17th, 2017.
VIEW THE FULL REPORT HERE.
Also, watch the video of a turtle rescue performed by a CBI diver!